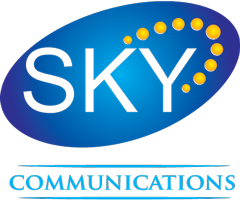 SOLUTION FOCUSED COMMUNICATIONS EXPERTS
Sky Communications, founded in 1998 is a locally owned and operated business with offices in Syracuse, Albany, Watertown and Rochester NY. In association with Titan Security Systems, the company now covers all of New York State and specializes in:
Telephone PBX/Key Sytems, Voice Mail, LAN/WAN Networks, Fiber Optics, Security Systems and Central Station Monitoring
WE HAVE WORKED WITH THE AREA'S MOST SOPHISTICATED NETWORKS
Our experienced technicians take pride in their work. They evaluate existing equipment, offer innovative alternatives, install new product, certify connectivity, and focus on getting the job done right the first time.
OUR COMMITMENT TO HELP OUR CLIENTS DELIVER THEIR STRATEGIES HAS SEEN US BUILD NEW YORK'S FINEST BUSINESSES
Our skilled technicians in Syracuse, Albany, Watertown and Rochester, NY have enabled us to deliver fast, efficient response to all of our clients in New York State.
OUR PARTNERS AND ASSOCIATES